Lüderitz – Walvis Bay Adventure Tour
Extreme
4X4 Self-drive Adventure (7 Days)
Idream Africa Tours and Safaris offers an unforgettable adventure in the oldest coastal desert, the Namib Desert. This dune adventure takes place between Lüderitz and Walvis Bay, formerly known as "Diamond Area no 1 & 2" and contains some of the highest dunes Africa can offer.
You will visit places like Saddle hill, Silvia hill, Spencer bay, Meob bay, Charlottenfelder, Sandwich Harbour. Along the way you will also encounter the rusting remains of ships, ox-wagons and trucks; you will loose track of time amongst derelict dwellings and disintegrating mining paraphernalia that resonate with the dreams and aspirations of the diamond diggers and fortune hunters of the past and you will leave transported by the romance and mystique of this tantalizingly beautiful desert wonderland.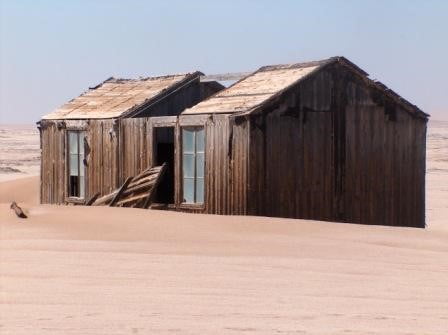 HISTORY:
The discovery of diamonds in 1908 around Kolmanskuppe led to an uncontrolled diamond rush in Namibia. Under proclamation the German colonial Government, who had to control diamond mining in Namibia, declared the area between the 26-degree (Gibraltar) and the Orange river a restricted area as "Sperrgebiet", stretching 100-kilometer inland.
This area was only accessible by the Dernburg Company, thus forcing prospectors northwards beyond its borders. This led to the discovery of diamonds at Oyster cliffs, Saddle Hill, Spencer bay and the area between Meob and the Conception Bay area (Diamond area no 2), resulting in yet another diamond rush. By 1909 a total of 500 diamond claims had been registered and mining towns such as Charlottenfelder, Holsatia and Grillenberger were established. Hopeful prospectors also tried their luck towards the South, but with the small yields of diamonds from these claims only a few prospectors proof to be successful in the long run.
Miners lived, prospected, thrived and died amidst the most challenging living conditions and difficult circumstances of this hostile desert environment. During the peak of production there were between 600 and 700 people, whose every need, ranging from the basic provision of water and supplies for sheer survival to the supply of the equipment, had to be fulfilled. Transportation mainly by ship and the cutter Viking, was from Swakopmund via Sandwich Harbour, Conception Bay and Meob Bay to these remote areas. Various shipping casualties occurred, such as the Eduard Bohlen, which was consequently lost while intending to off-load the mining equipment it had onboard (1910).
During the first 15 years there were no form of engine-driven transport available, leaving behind the remains of an oxwagen fitted with special wide iron bands to make transportation easier in sandy areas. This and the surfboats at Meob Bay are all examples of pre-World War I historical relicts depicting the immense difficult pioneering days in those inhospitable desert conditions.
In 1909 a Customs and Police station was opened at Conception bay and during 1912/1913 an agreement was reached to invest in a light railway from Conception Bay to Conception Water and in a 80-kilometer pipeline linking the settlements from Meob bay. A number of pre-fabricated buildings were constructed including a large shed for the storage of perishable supplies, one for fodder and oats for the horses, mules and camels, sleeping quarters for employees, a smithy and a store room for the spares and the equipment. It is not known how many of these pre-fabricated buildings were erected at the various settlements and only the foundations of a few of these are still visible today.
In November 1914 all persons in this area were instructed to stop all operations and to proceed northwards to Swakopmund. This order came as a result of an expected invasion of allied troops. Activities recommenced in this area during 1920, but started to decline. Only four companies still mined when De Beers started to purchase one after the other concession areas in 1929. From existing mining records it is clear that the average diamond found in this area was much smaller than those found South of Luderitzbucht.
In 1932 the price of diamonds dropped considerable and almost all known diamondiferous ground had been worked over at least once. The mining of these small diamonds left behind in the tailings became uneconomical.
After World War II the company Industrial Diamonds of South Africa (1945) Ltd. conducted an extensive prospecting survey in the Meob area but with no avail and CDM also abandoned this area in the early 60's. Thus leaving the area abandoned with only some remnants of the activities still visible and deteriorating at an alarming rate.
Saddle Hill became well known in Namibian diamond operations through the efforts of the remarkable Mose Kahan. The unsinkable Mose was born in Konigsberg, Prussia and after emigrating to South Africa, he became involved in prospecting and mining. His application for a concession in Diamond area no 2 was successful and he named his claims Saddle Hill, Ophir and Atlantis.
To reach his claims with food and mining supplies, Kahan had to make his way through hazardous shifting dunes. After World War II Kahan bought some Ford "stompneus" lorries from surplus war supplies, which he fitted with Dakota DC3 aircraft tyres. With these low-pressure aircraft tyres the lorries were able to travel on the sand and this enabled him to bring the supplies and equipment to Saddle Hill. One of these lorries, nick named Suzie, unfortunately had to be abandoned in the dunes, today still awaiting the return of the repair crew. Likewise a Bulldozer, pulling some trailers close to the Uri Haugab Mountains.
With the proclamation of the area between Lüderitz and Walvis Bay as Diamond Area No. 2, the legislated strict control in and over this area has been lifted and, for the first time in the history of Namibia, been opened again to the public.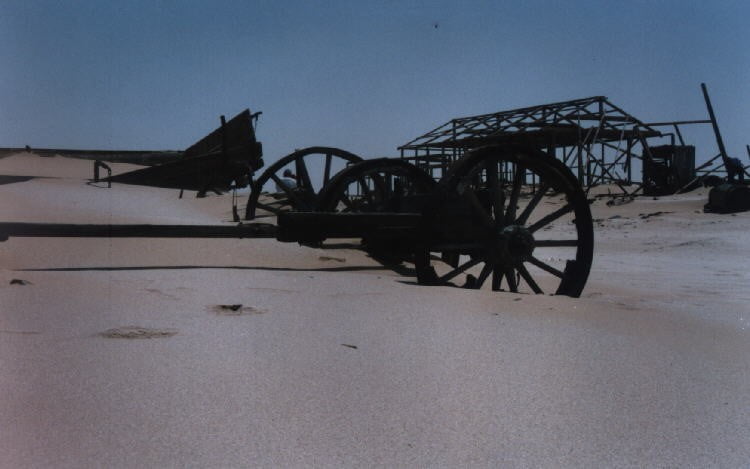 The Treasure Tail
Our adventure starts in Aus at the The Bahnhof Hotel (Discounted rate of N$340.00 pppn sharing for dinner, bed & breakfast) where the group will assemble at 18h00 the evening before for a short briefing before venturing into the dessert the next day.
While enjoying the clean fresh air of Southern Namibia the final preparations will take place. Enough fuel is available at the local garage, but stocking up on anything else must be done prior to your arrival in Aus. Shops have very limited supplies.
After backtracking about 35km on the Lüderitz Aus main road, it is time to say goodbye to tar roads, starting an adventure of a lifetime. You will learn dune-driving on a few smaller dunes, passing Gibraltar and Saddle-Hill South en-route to our first overnight spot. For the next couple of days you will experience 'camping under the desert sky' in true expedition style.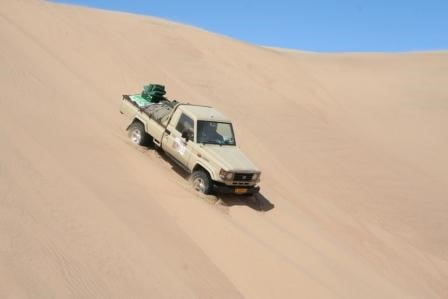 The trail now leads North past Saddle Hill North, Clara Hill towards Spencer Bay where the Otavi's sea live came to a halt. We pass the Arcona to our campsite on the beach.
Devils Workshop is on the menu where technical driving skills will come to the foreground on our way to the 'stompneus' Ford lorry Suzy and the Bulldozer. We will then cross the dune belt again en-route to our sea front overnight camp.
The dunes are getting progressively higher and more difficult where driver experience and skills will be tested and honed to perfection. Driving along the Lange Wand, we will be visiting Silvia hill and St Francis bay. With a lot of high dune driving behind, we will came to rest near Black Rock.
At Reutersbrunn / Fishersbrunn area fresh water can be found at shallow depth. At Meob bay the dune belt opens up and it is in this stretch up to Conception bay where active diamond mining were in the order of the day during the early 1900's. The settlements Grillenberger, Charlottenfelder and Holsatia will be visited, where we will also be camping for the night.
We visit the shipwrecks of the Eduard Bohlen & Shawnee as well as Conception Water. Passing 'Langewand' where a massive dune ends in the sea, circumnavigating the Salt Pan 'extensions', the trail once again leads into the even higher dunes to Sandwich Harbour. The night will be spending in the vicinity of the Harbour.
From Sandwich the trail enters the 'Roller Coaster', a series of massive 'roaring' slip faces, not only giving you a new thrilling experience but also offering breathtaking views of Sandwich Harbour and a panorama of Sandscapes exiting onto the beach South of Walvis Bay. The trail ends at Walvis Bay after a final 50km stretch of beach driving.
Distances & Coordinates
Aus – Saddle Hill South | 215 km
Saddle Hill South – Arcona | 60 km
Arcona – Silvia Hill | 110 km
Silvia Hill – Black Rock | 60 km
Black Rock – Holsatia | 115 km
Holsatia – Sandwich Harbour | 150 km
Sandwich Harbour – Walvis Bay | 70 km
Aus – Walvis Bay | 780 km
Lüderitz S26 38.934 E15 09.280
Perdekar S24 32.004 E14 41.211
Koichab afdraai S26 22.174 E15 35.516
Meob S24 30.500 E14 37.000
Suzie S25 25.330 E15 05.403
Grillenberger T S24 26.877 E14 36.665
Bulldozer S25 23.480 E15 10.550
Grillenberger S24 15.048 E14 37.195
Sylvia Hill S25 08.152 E14 51.300
Ossewa S24 13.482 E14 37.207
Kamp 2 S25 06.793 E14 51.767
Charlotten S24 11.784 E14 37.303
Viewpoint S25 02.806 E14 51.898
Holsazia S24 09.257 E14 37.023
Gat 1 S24 57.896 E14 51.122
Edward bohlen S23 59.757 E14 27.464
Blackrock S24 56.500 E14 48.400
Conception S23 55.799 E14 29.738
Gat 2 S24 56.352 E14 49.865
Shawnee S23 40.378 E14 30.173
Free Willy S24 54.107 E14 48.349
Langewand S23 34.358 E14 29.512
Kamp 3 S24 51.069 E14 47.779
Kamp sandvis S23 21.661 E14 30.885
Fishersbrun  S24 40.186 E14 41.966
Sandvis View S23 21.184 E14 30.238
Fishersbrun S24 38.833 E14 43.259
Graveyard S23 19.593 E14 30.464
Perdekar T S24 34.627 E14 41.381
Strand S23 18.070 E14 29.811
ESSENTIALS:
The following items is mandatory for all the participating vehicles (Please check carefully):

• Vehicle must have 4×4 capabilities and a good ground clearance.
• Sufficient fuel to cover the distance (see distances table above). Heavy sand driving conditions (± 3km/liter and ± 4.5km/liter consumption for larger petrol and diesel engines respectively) will be experienced.
• Vehicle to be fitted with strong recovery points to attach tow ropes in the front and at the rear. NB!!
• Spares such as engine-, gearbox-, transfer case oil, brake fluid, v-belts, fuses, water pipes etc.
• The trail passes through heavy dune area, which requires high flotation tyres ("fat takkies").
• Vehicle must be loaded in such a way to ensure that it is not "top heavy" – e.g. only light items like clothes, etc on roof carriers (No rooftop tents, water or fuel).
• All equipment and luggage must be securely strapped and fastened.
• Empty/available lighter plug socket for a communication radio.
• Space for one Ammo box with food for the kitchen which you will receive the day of departure.
• 20 liter of water for the kitchen and 20-30 liter of water per person for showering and washing (Minimum of 60 liter total).
• Two large bags (20kg+) of firewood and one bag of charcoal for the kitchen.
• Shovel.
• Tyre pressure gauge and an electrical pump for the tyres.
• Toilet paper & matches.
• Plastic bags to carry your own waste (e.g. empty cool drink tins, etc).
• Torch with extra batteries.
YOU WOULD NEED:
• Tent, folding chair, sleeping bag/bed roll and pillow.
• Eating utensils (cutlery, plate, bowl, glass & mug).
• Own snacks & refreshments (alcoholic beverages, cool drinks, in-betweens, etc.).
• Hat, sunglasses & sun tan lotion.
• Clothing for very hot and very cold times, toiletries & towels.
• Prescribed medicine – NB!!!!
• Small bowl or collapsible wash basin.
• Camera and/or video camera with extra films & batteries – synchronize with GPS time!!!!!!
• Cloth and windscreen cleaner.
• Small broom.
OPTIONAL:
• Extra spare wheel (no 6).
WE SUPPLY:
• Tour guides and assistants.
• Recovery gear and onsite recovery only.
• Communication radios for all participating vehicles.
• All three meals (Only tea/coffee and fruit juices will be supplied with meals).
• "Communal" camping equipment (e.g. braai grid, cooking facilities & equipment, tables, wash-up facilities, showers, toilets etc.)
ITINERARY:
Day 0: Participants assemble in Aus/Luderitz at 18:00 the day before.
(Meals & Accommodation at own account)
Day 1: Depart to Saddle Hill South.
Day 2: Go past the Otavi, Spencer bay to the Arcona.
Day 3: Past bulldozer, viewpoint to Silvia hill where we will sleep.
Day 4: Nice dune driving and sleep in Black Rock vicinity.
Day 5: Visit "ghost" mining settlements on the way to Holsatia.
Day 6: The rout leads via the E Bohlen, Conception and Langewand towards Sandwich Harbour.
Day 7: Last stretch of dunes ("Roller Coaster") towards Walvis Bay.
(Meals & Accommodation at own account)
ALL PRICES INCLUDE VAT AND ARE SUBJECT TO CHANGE WITHOUT PRIOR NOTICE.
NB: The 6 day trip doesn't include Saddle Hill
6 Day Trip
---
0 – 5 Years
F.O.C.
6 Day Trip
---
6 – 11 Years
N$ 2,800
6 Day Trip
---
11 – 16 Years
N$ 4,500
6 Day Trip
---
Adults ( 16 + Years )
N$ 7,500
7 Day Trip
---
0 – 5 Years
F.O.C.
7 Day Trip
---
6 – 11 Years
N$ 2,800
7 Day Trip
---
11 – 16 Years
N$ 4,500
7 Day Trip
---
Adults ( 16 + Years )
N$ 8,500
N$1 750.00 per day for a fully equipped rental vehicle (extra)
• These prices include the N$3 000.00 levy per person payable to the Government & Local communities through Coastways or Belvedere.(Concession Holders)
• It does not include the accommodation or any meals in Aus or in Walvis Bay.
• It does not include any insurance or rescue charges.
• It does not include any damages or losses to any of the vehicles or participants.
Please note that prices are subject to change due to currency regulations, unforeseen increases in fuel prices or future government taxes. Quotations are subject to availability at time of booking.
We can arrange the rental of 4×4 vehicles and camping equipment on your behalf.
TRAVEL INSURANCE AND MEDICAL EVACUATION:
Medical evacuation is included in the price, should you be in a motor vehicle accident in a restricted area. You will need your own travel insurance and medical evacuation service in case of a hart attack or any other medical emergency etc.
Please make sure that these detail is filled in correctly on your registration form. Otherwise we will not know who to contact in case of an emergency.
OUR EMERGENCY CONTACT NUMBERS:
Should anybody need to contact you urgently whilst on the trip, they can contact us on the following satellite phone numbers:
Armand @
00 88 163 1515 259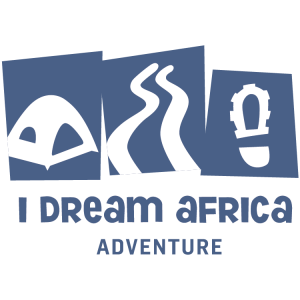 A 50% deposit will be charged upon booking confirmation.
The balance is to be paid in full, one month prior to departure date.
Any cancellations within one month prior to departure, is non-refundable.
If cancelled with a valid reason, credit can be used for any future tour.
Banking Details
Acc Name | iDream Africa Adventure Tours
Bank Name | First National Bank
Branch Name | Maerua Mall
Branch Code | 282273
Acc Number | 62155293386
Address details needed when applying for VISA: ask Armand for help
Angolan Adventure Safaris LDA
Rua Capitao da Rosa N 23
Bairro da Torre do Tombo
Tel: 244 – 64-50006
Contact: Mr Rico Sacco
Keep Up With Us On Facebook!
Or we won't help you if you get stuck in the dunes! 😉